So we finally got around to furnish and decorate the balcony. At first I did drawings for building my own lounge-couch/bed solution but it just felt like a project we would never get the time to finish. So I looked around at about every outdoor furniture store we have in Sweden but the measurements where always off. Our balcony is 190cm deep and I wanted the couch to cover all of that, no more no less, and at the same time be deep enough for full lounge mode. Mostly I was annoyed at all the armrests taking up a pretty crazy amount of space meaning we could only have a two-seater and some dead space next to it. That's until I found our current solution at IKEA. They now have a module-couch solution for balconies. So we opted for 3 one-seat sections with backrest but no armrest and 3 foot rests. The sections are 62cm wide ending up in a couch thats 186cm wide, like made for our space! They come with little plastic "hooks" to click them together so all our 6 units stay together as one but can easily be separated if you want more of a seating arrangement. About a million mixed pillows on top of that, a couple of blankets and some nice lights and this is now my favourite spot in the apartment. 
On really warm days like today you can have your morning coffee here before the sun fully creeps around the corner. Still cool, with a slight breeze and so much peace and quiet when the neighbourhood slowly wakes up and the birds are chirping along. The dream!
Äntligen tog vi tag i balkongen med möblering och piff. Först hade jag i tankarna att rita en egen lösning för en lounge soffa/säng men jag det kändes som ett projekt vi aldrig skulle ha tid att avsluta. Så jag kollade runt på mer eller mindre alla möbelaffärer som säljer utemöbler i Sverige men måtten var alltid fel. Vår balkong är 190cm djup och jag ville ha en soffa som täcker hela det djupet, varken mer eller mindre, och som samtidigt är djup nog att man kan halvligga bekvämt. Mest av allt var jag irriterad på alla armstöd som åt upp otroligt mycket onödigt utrymme vilket gjorde att vi bara hade fått plats med en tvåsits soffa med lite döutrymme bredvid. Gav nästan upp innan jag hittade denna IKEA lösning! De säljer nu modulsoffor för utomhusbruk. Så vi valde 3 stycken ensits sektioner med ryggstöd men inga armstöd och tre fotpallar. Sektionerna är 62cm breda vilket tillsammans blir 186cm, som gjort för våran balkong! Dom kommer med plasthakar så man enkelt kan klicka ihop dem så våra sex enheter sitter ihop som en men kan enkelt klickas loss om vi vill ha en mer "sittande" möblering. En miljon kuddar på det, ett par filtar och några fina ljusslingor och detta är numera min favoritplats i lägenheten.
På riktigt varma dagar som idag kan man ta morgonkaffet här innan solen helt kryper runt hörnet. Fortfarande svalt, med svaga vindar och en sån känsla av totalt lugn när kvarteret långsamt vaknar och fåglarna kvittrar i takt. Drömmen!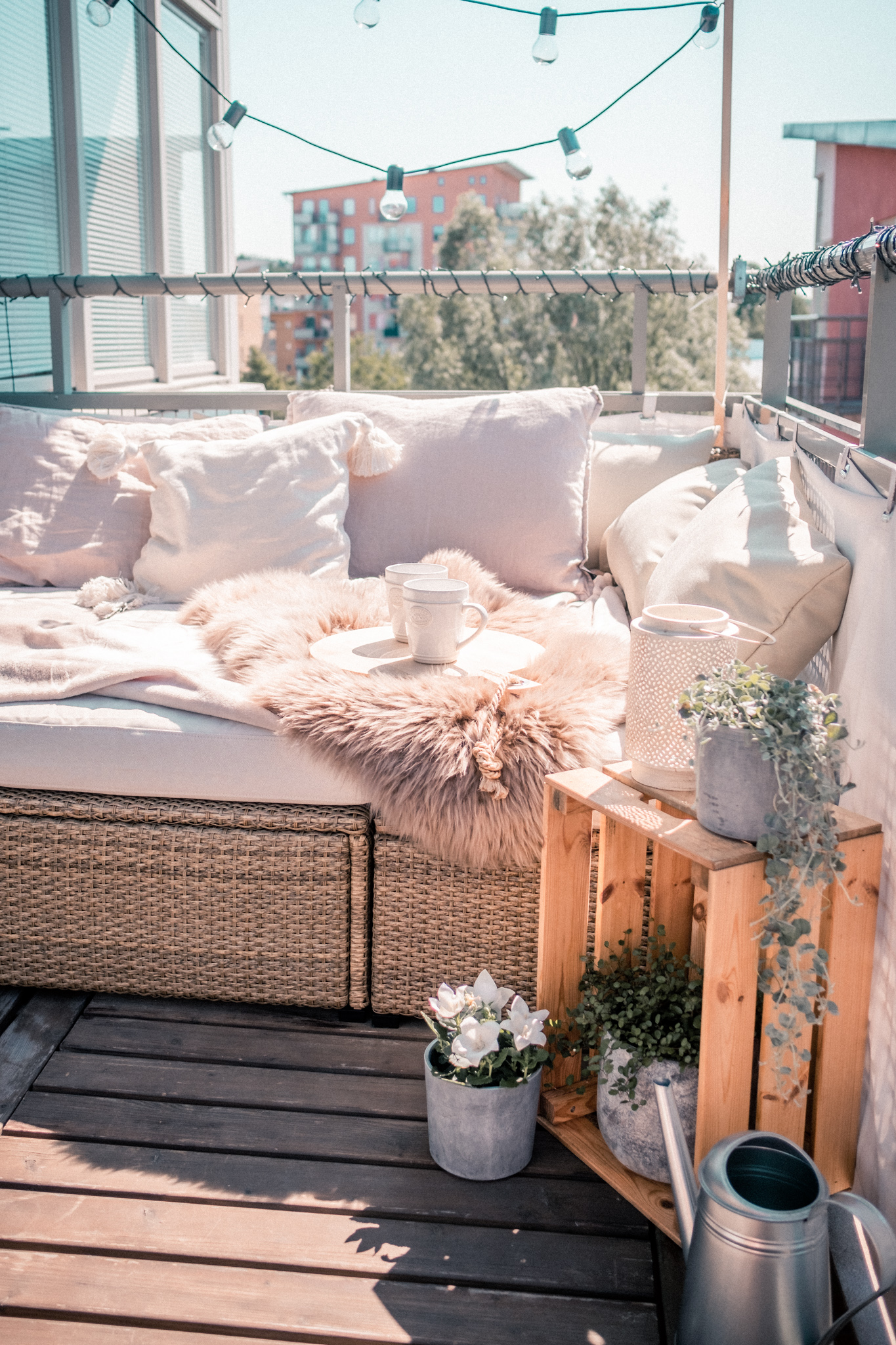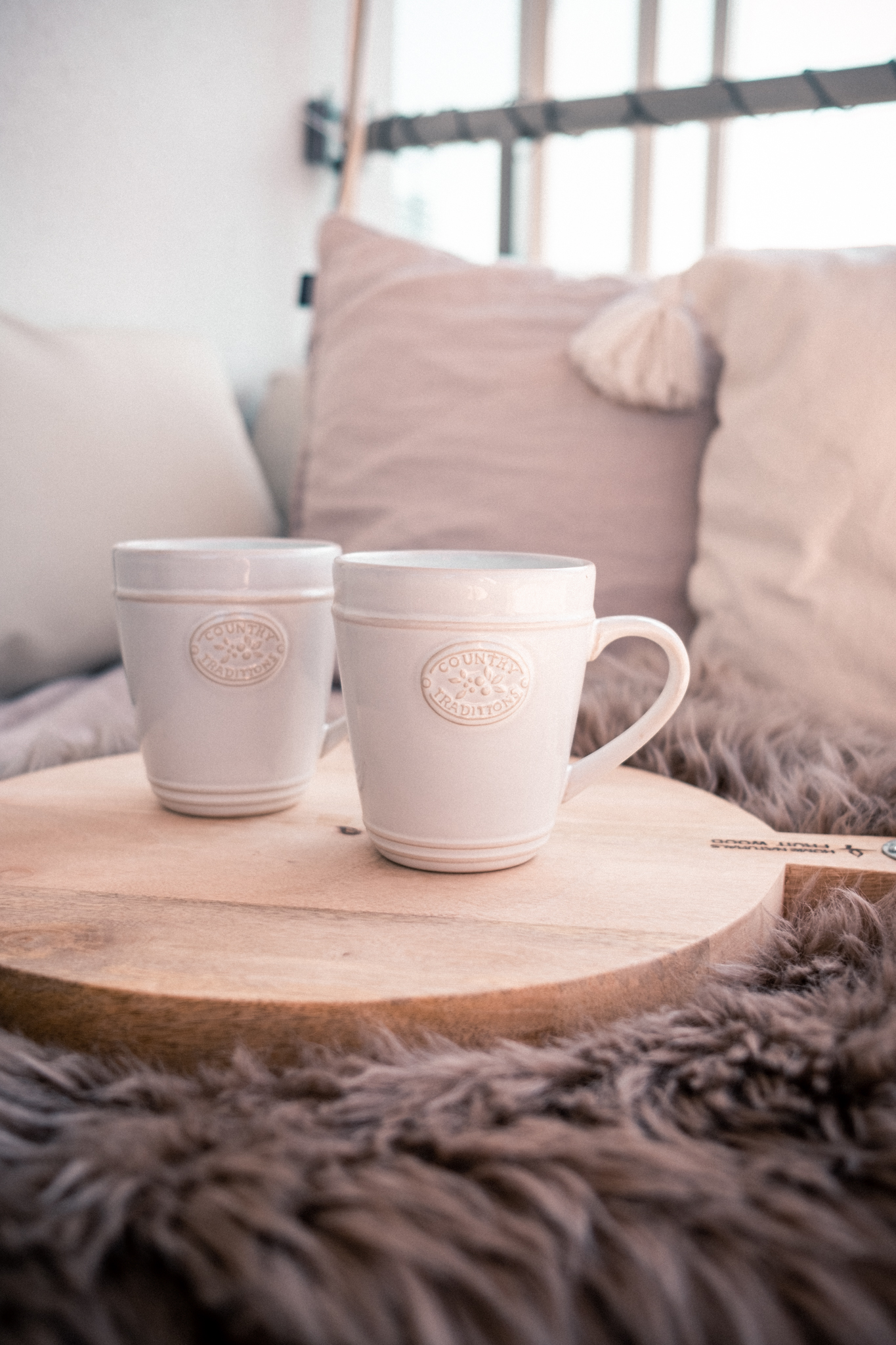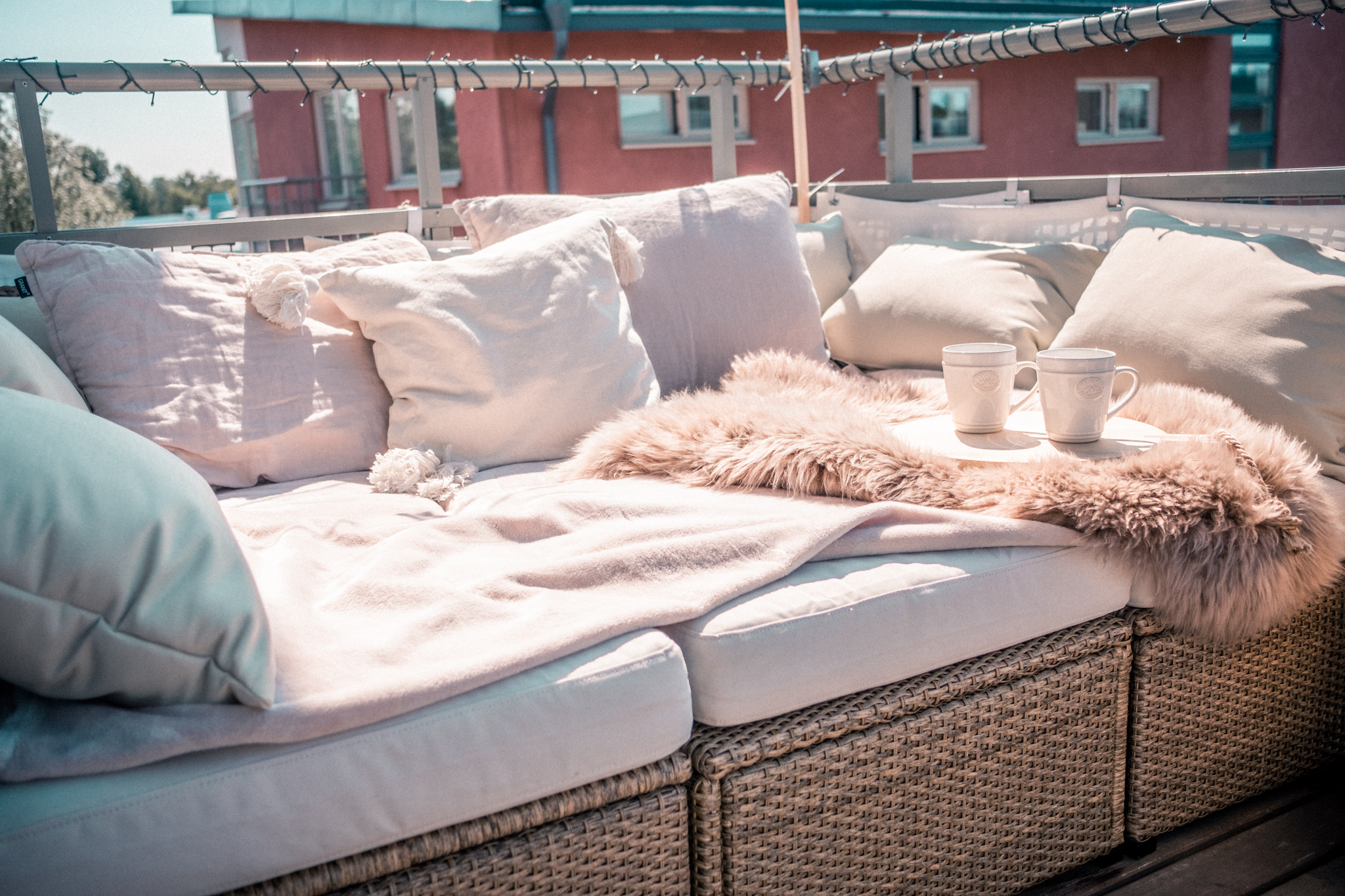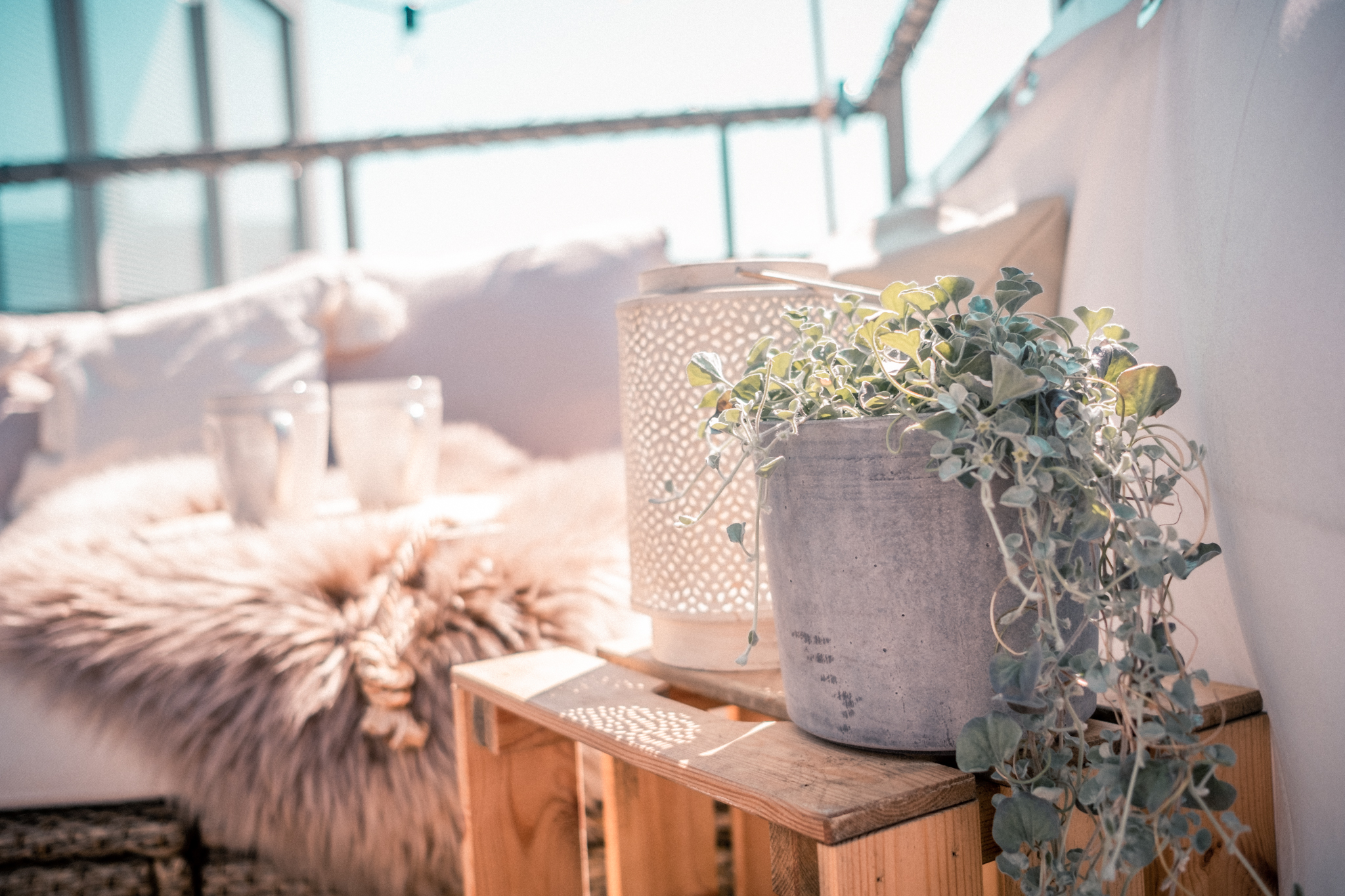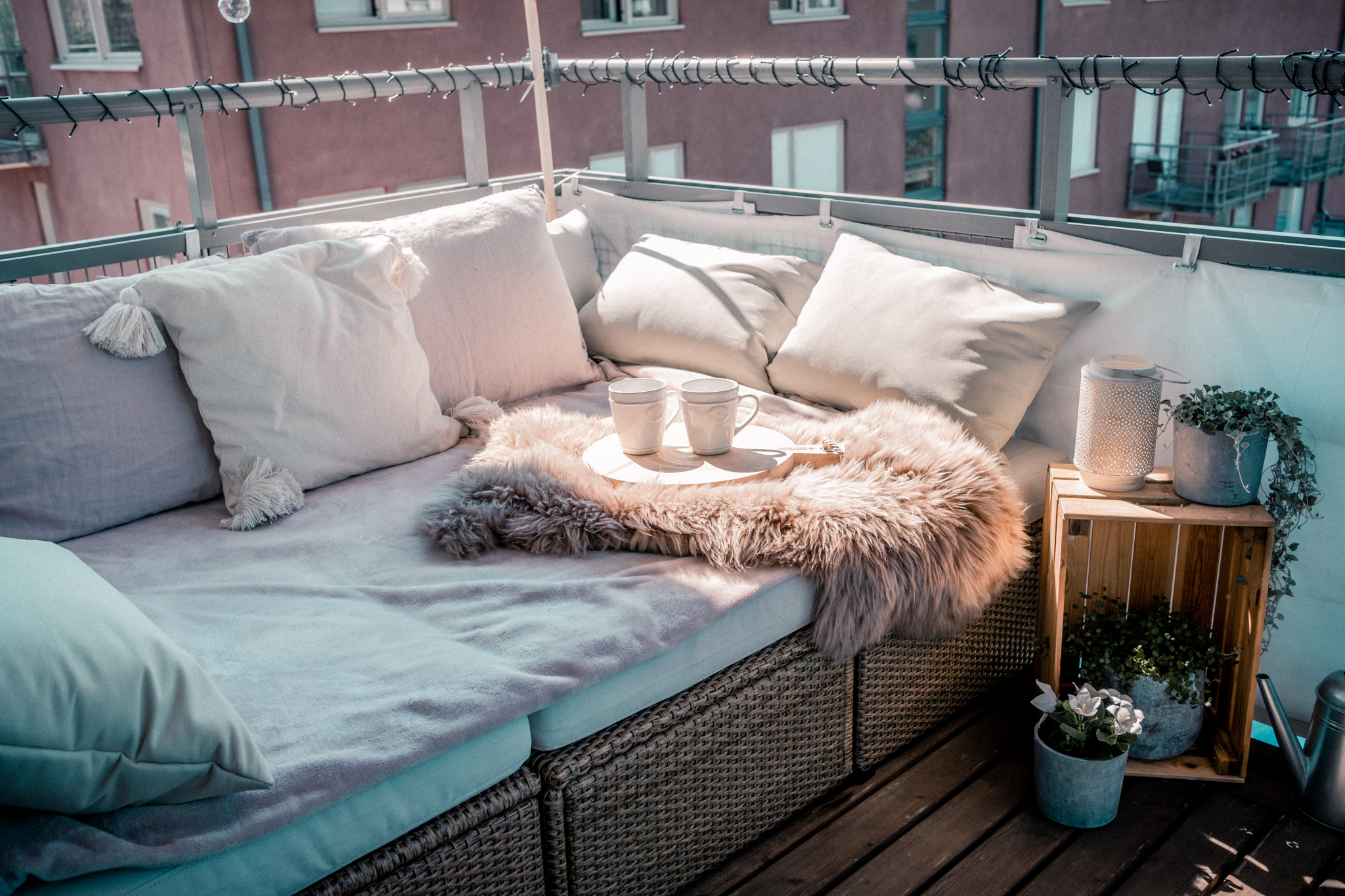 The couch is made up of the following parts